The Silver Lining of a Year Gone Bad
I'm kind of excited! I'm charting my calendar for the weekend. I have two parties to attend, and it looks like we are getting snow, snow and more snow! I may get a chance to snowshoe. I joined a local running club, and I plan to attend their Saturday morning run tomorrow. They seem so friendly and welcoming on their Facebook page. And I've started making the drive to New Buffalo to attend Sunday morning yoga at my old yoga studio. I went two Sundays ago, and I realized how much I miss Don's yoga. His yoga is so different than the "exercise" yoga I find so many other places. His over 40 years of experience in teaching yoga puts him in a whole different universe than a teacher with five years of experience.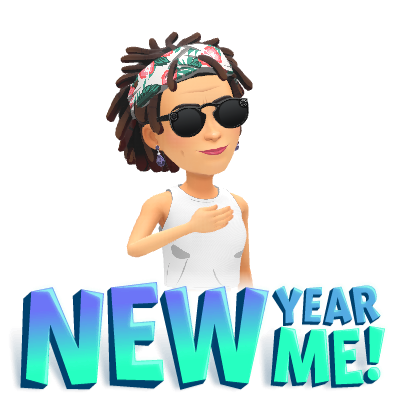 I also signed up for my first writing course! It starts right after my birthday. I've been noodling this for months and just decided to bite the bullet. If I can come up with $1200 for emergency vet bills, I can come up with $300 to invest in learning something new. My goal this year is to start writing some fiction to see if I like it.
Today is the day I start to ratchet down my overconsumption of caffeine and sugar that has been my habit over the last week or so. I can't wait to feel better and have a fun-filled weekend filled with good health and friends – and probably a coffee shop visit or two. This week has been slow at work, so I've had a chance to be productive and create a few things that I haven't had time to work on due to meetings and interruptions. Overall, this week has given me a chance to think about where I want to go personally in the new year. I think I will be writing more, trying some new exercise options, practicing more yoga and continuing to make new friends.
Most of my podcasts are doing "year in review" segments. 2017 was a monster  truck in overdrive, and it has never stopped. I've been looking for the silver lining in all of this because I know it's there. It always is. The Daily from the New York Times is one of my favorite podcasts to explain the news. Their year-end review has been particularly inspiring and has helped me find the fabulous silver lining on the last year. I'll link to some of them at the end of this blog. It is a reminder to me that the good in life is found in the interpersonal relationships of people and in the resilience of the human spirit. We are at our best when we focus on individuals and put down our stereotypes.
I hope you have a glorious New Year's weekend, and I urge you to take a few moments to yourself to set up a plan for a better 2018 – for you, your family and friends, our country and the world. We all deserve it.
If you are needing a more positive take on 2017, here are some great stories:
This podcast illustrates the goodness of people when we connect individually instead of focusing on stereotypes. It is set in Fort Smith, Arkansas, and it is the story of a young man who vandalizes a Mosque and the reaction of the Muslims to his heart-felt apology. Forgiveness, humility and self-compassion are key ingredients. Click here for a story on vandalism and forgiveness.
This podcast shows how one of the budding leaders of the alt-right changes his mind about his family's political views. It's the connection, kindness and respect of his Jewish and liberal-leaning friends that gently lead him down a path of awareness. We will never change people's minds by screaming at them or shaming them. It is only with love and patience that people listen. Click here for this amazing story.
This podcast shows a town learning the hard way how tougher immigration laws impact one of icons of their community. Nothing is ever completely good or bad, and this story shows the impact when hard lines are drawn. Click here for the heartwarming story of Carlos.